Indulge yourself in a full day of relaxation and calmness at this beautiful wellness resort, where we specialize in the art of mindfulness meditation. It's the perfect way to ease stress and find inner peace.
Open Your Heart to Life's Wonders: A Journey to Self-Discovery
Treating others with kindness can have a really big impact on our own happiness and well-being. If we don't make an effort to be kind, we might start to feel disconnected from the world around us and like we don't really belong anywhere.
Kindness is what makes life beautiful and gives us hope. Basically, all the wonderful things we've ever experienced are thanks to the kindness and compassion of others. At this one-day retreat, we'll be exploring the idea of loving kindness (Metta) and learning how to open up our hearts to others.
Are you ready for a truly amazing experience? We're gonna take a deep dive into the wonderful world of loving kindness and compassion during this special event. You'll get to see for yourself what the experts mean when they say "open your heart". Plus, you'll learn all about self-love and how to forgive yourself when things don't go according to plan. It'll be crystal clear why loving kindness is at the core of most spiritual traditions throughout history. So come on, j
One-Day Retreat includes:
Welcome drink /coffee / tea
Guided meditation ( session 1)
Break (fresh juice + snacks)
Guided meditation ( session 2)
Healthy lunch with vegetarian option
Relaxing times by the pool
Singing bowl sound therapy
Break (smoothies)
Guided meditation (session 3)
Q & A session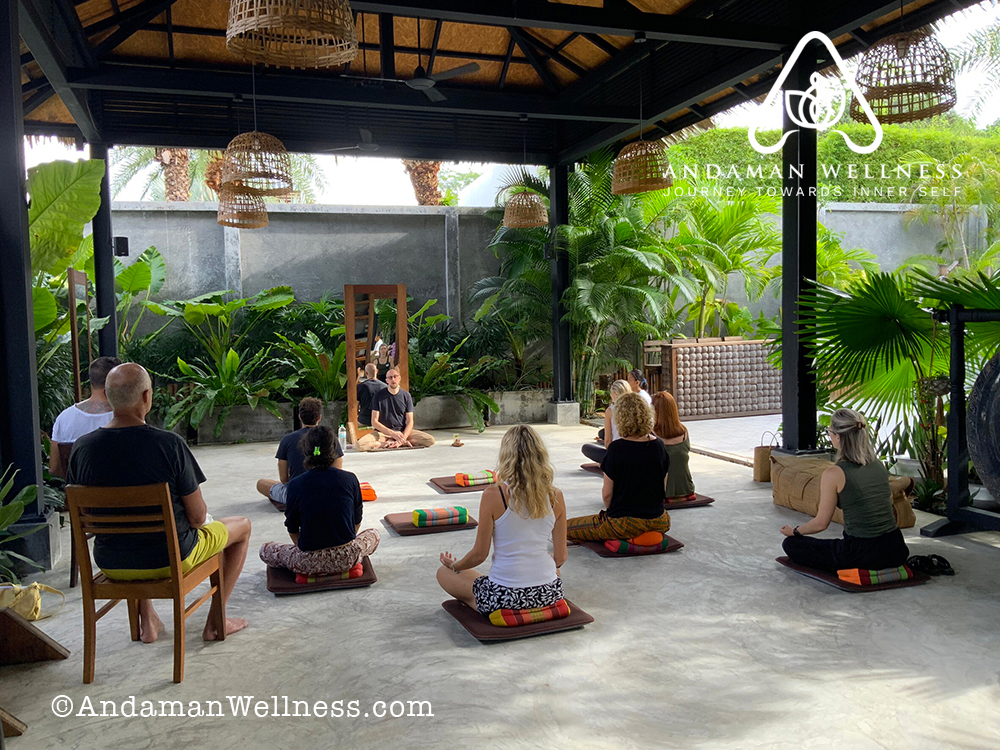 Our focus is on mindfulness and help you relieve stress and find a sense of calm in the midst of the chaos.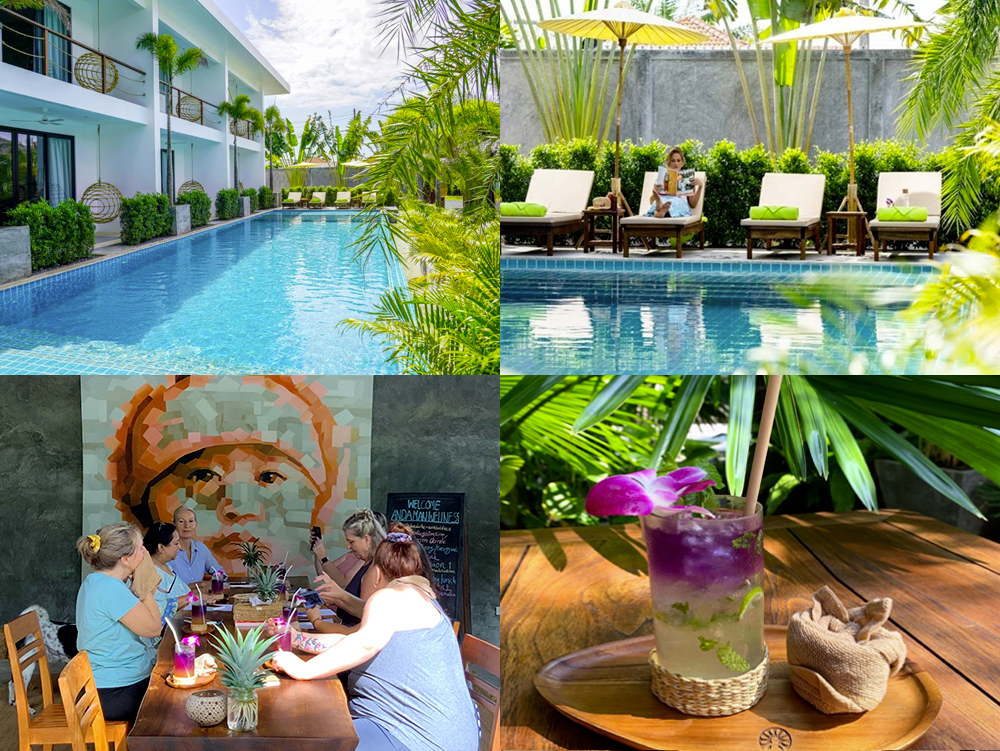 Self-Reflections times
After indulging in a delicious and healthy lunch, you will have some free time to unwind and relax by the pool or continue your meditation practice.
During this time, you may choose to explore the retreat center's surroundings, socialize with other participants, or simply rest and rejuvenate.We strongly encourage you to take this opportunity to give yourself the space and time to release any tension or stress and allow your body and mind to ease into a state of deep relaxation.
Healing benefits of
Crystal Singing Bowls
Crystal singing bowls help you meditate by creating more awareness in your mind. Being aware of your thoughts can help you change your negative thinking patterns and move towards positivity. In particular, positive affirmations create balance and harmony in your mind and soul by activating your physical, emotional and energy centers.
By meditating with a crystal singing bowl, you can become immersed in a soothing singing bowl sound which further helps you heal by changing your thinking patterns. All the healing happens naturally while you are enveloped by the overwhelming, magnificent singing bowl sound.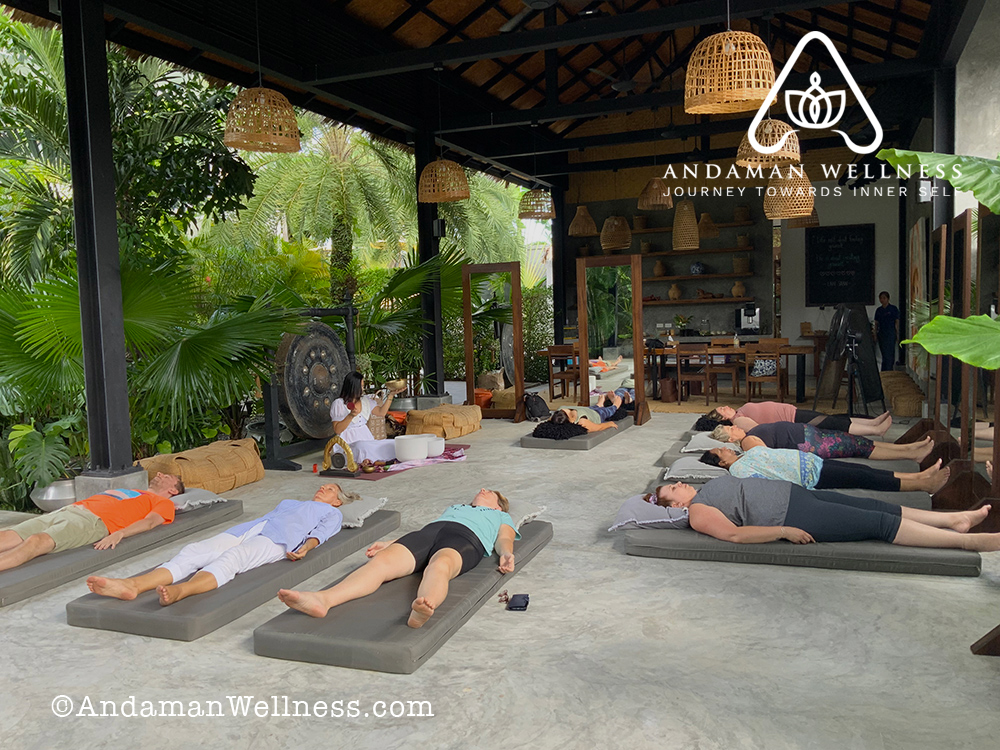 Let go of stress and welcome wisdom
Our one day guided meditation sessions led by Tobi Warzinek from Phuket Meditation Center, who has been working as a spiritual guide and mentor since 2009. His journey started back in 2002 when he entered the Tibetan Buddhist monastery.
Our one-day meditation retreat will incorporate mindful practices and the Dharma (the ancient wisdom teachings of the Buddha)
In this first session our master will dive into three powerful key-points. With the first two sections you will learn all about the begin and the end of stress. How to reframe stress and gaining a new perspective on stressful situations.  Then we will show you how to breaking free from negative thoughts, be in the present moment and put these timeless teachings into practice.
Experience the power of meditation at our one-day retreat!
Join us and discover a comprehensive meditation technique, along with visualization, breathwork, and self-healing methods to help you create the life you want from the inside out. Our program will enhance your mental acuity, clarity, and concentration skills, empowering you to access deeper levels of insight and self-knowledge. With greater focus and inner stability, you'll be able to unlock new opportunities for growth and fulfillment.
by The Experienced Teachers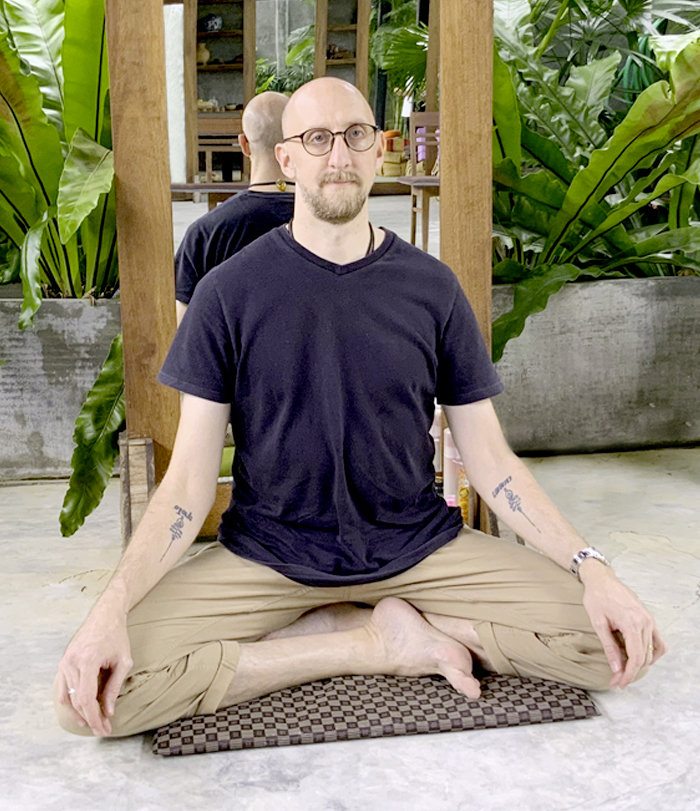 Tobi Warzinek
Phuket Meditation Center
Meet Tobi, the ultimate spiritual master Phuket. He's been working as a counselor, mentor, and coach since way back in 2009. Before that, he spent a whopping 7 years of his life living and studying in a Tibetan Buddhist monastery in Switzerland – talk about dedication! Over the last 10 years, he's fine-tuned his approach to mind training, meditation, and spiritual practice, making him an expert in his field. People love his teachings because they're super practical and yet amazingly profound. If you follow Tobi's guidance, you'll gradually find your way to stability, well-being, and ultimate freedom!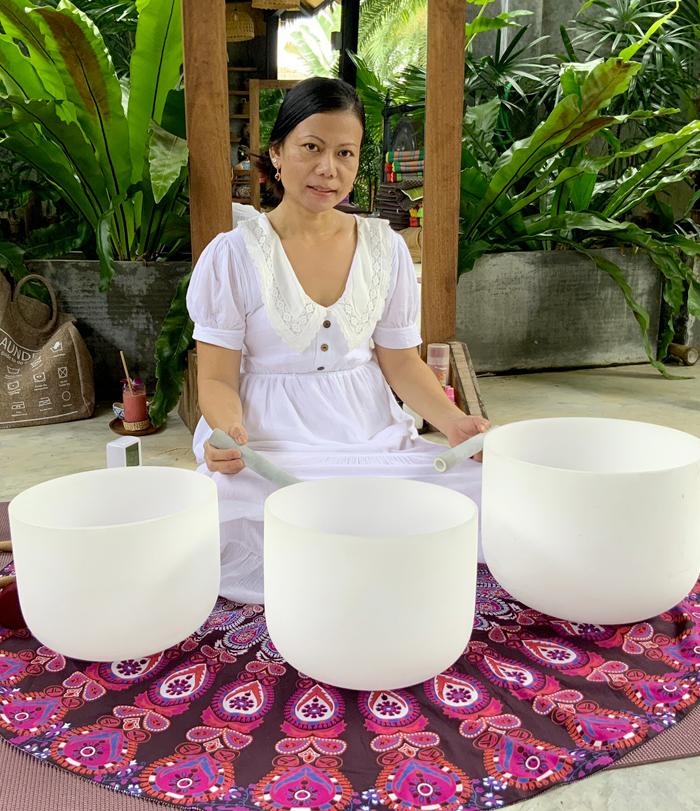 Dao Sethi
Dao is a passionate yoga instructor with expertise in Yin, Hatha, and Vinyasa yoga. She began her yoga journey in 2015 and has been dedicated to it ever since. Her commitment to deepening her practice led her to travel to India in 2018, where she completed her first yoga teacher training at Satyam Vedic Yoga School in Rishikesh. In addition to teaching yoga, Dao is a spiritual coach specializing in crystal bowl therapy. Her teaching style centers around her students, and with experience instructing individuals of varying skill levels, she excels at tailoring her classes to help each student reach their personal goals.
Join our retreat, book your place
Contact: +66894740065
Notice
: Undefined variable: destination_id in
/home/andamanwellness/public_html/wp-content/plugins/select-tours/post-types/tours/templates/tour-info-parts/destination.php
on line
24
Notice
: Undefined variable: destination_label in
/home/andamanwellness/public_html/wp-content/plugins/select-tours/post-types/tours/templates/tour-info-parts/destination.php
on line
24
1
Retreat schedule (Saturday)
| | |
| --- | --- |
| 08:30 - 09:00 | Registration & Welcome drink |
| 09:00 – 10:30 | Guided Meditation (Session 1) |
| 10:30 – 11:00 | Short break and stretching times |
| 11:00 – 12:00 | Guided Meditation (Session 2) |
| 12:30 – 14:00 | Healthy lunch + relaxing times |
| 14:00 – 15:00 | Sound therapy |
| 15:00 – 15:30 | Break & refreshment |
| 15:30 – 17:00 | Guided Meditation (Session 3) |
| | Q & A session |
How to get there
Lan Sabai Resort, Naiharn
58/51 Soi Prakoabkit, Moo 7 Naiharn, 83130 Rawai, Phuket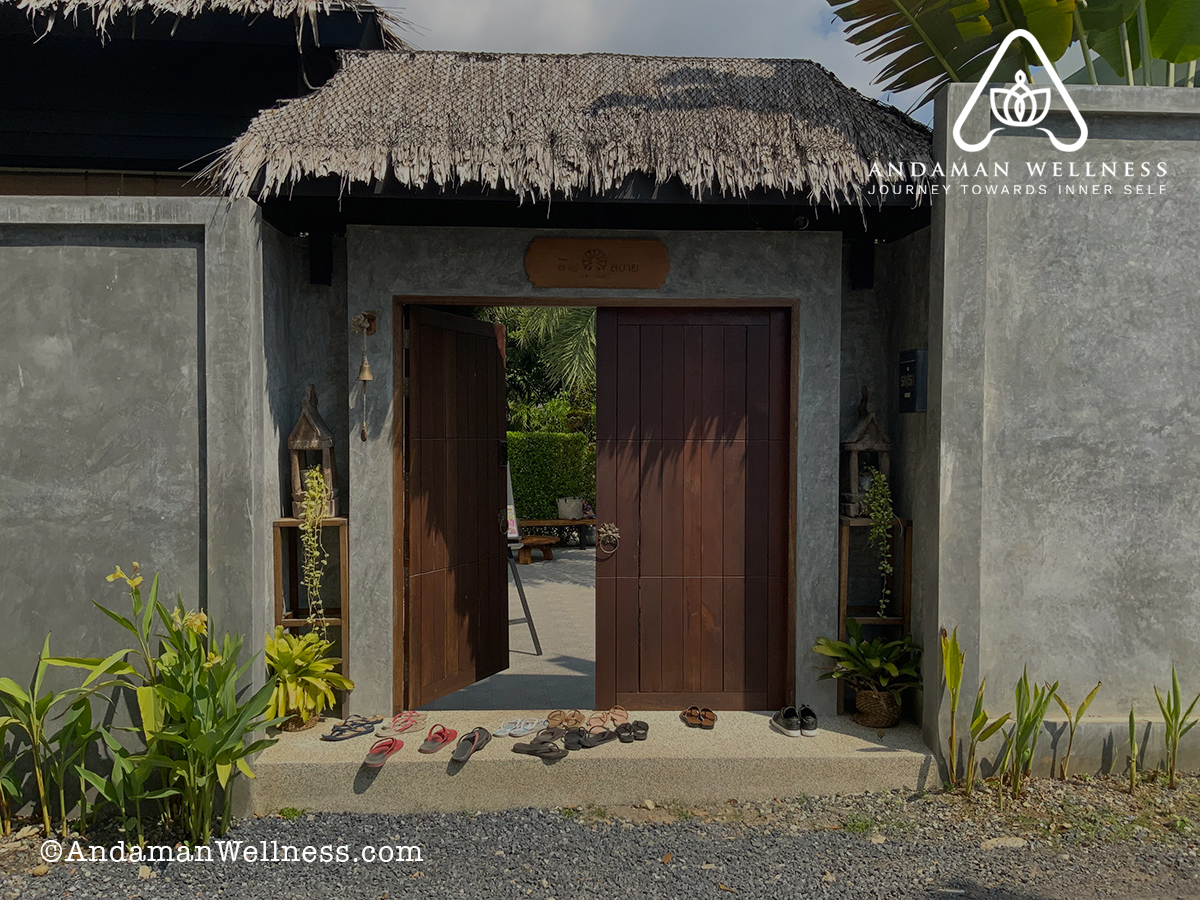 Lan Sabai is an idyllic, sustainable health resort designed with your well-being in mind.  The oasis that is Lan Sabai is also conveniently located to discover more of the island of Phuket The resort offers personalised wellness treatments, delicious local cuisine and a serene, natural environment. The perfect get-away-from-it all retreat where relaxation and self discovery is a priority.